iP-Solutions Simulator comparison table
| Simulator type | Model | Functions | Features |
| --- | --- | --- | --- |
| Simceiver | S-A1R1 | simulation, record and playback, any signal in L and S - band, 1 frequency at a time | midl-level, low cost, full featured, Model API source code access |
| Simceiver | S-A2R2 | simulation, record and playback, any signal in L and S - band, 2 frequency at a time | midl-level, low cost, full featured, Model API source code access |
| Replicator | R-C1R4 | simulation and playback (recorder sold separately), 2 frequencies at a time | high-end |
| Replicator | R-C4R4 | simulation and playback (recorder sold separately), 4 outputs, CRPA, 1 frequency at a time | high-end |
| Ninja | N-I1R6 | simulation only, HIL, 6 frequencies at a time, highest signal resolution and fidelity | high-end, full hardware |
| Ninja Complex | C-I2R6 | simulation only, HIL, 12 frequencies at a time or 6 frequencies for 2 vehicles, highest signal resolution and fidelity | high-end, full hardware, upgradable |
| Ninja Complex | C-I4R24 | simulation only, HIL, 6 frequencies for 4 outputs , highest signal resolution and fidelity | high-end, full hardware |
Model legend: S/R/N/C-A/C/I-X-rY : model-academic/commercial/industrial - Number of RF outputs - number of simultaneously available RF frequencies
Ninja Industrial Grade Hardware RF GNSS Simulator
The Ninja is high-end, industrial grade simulator, which is using 14-bit resolution Pegasus RF cards.
It is different from Replicator model in that it supports higher power range, higher power resolution, more RF cards , HIL simulation, modular stuck, 1,000 Hz (1 millisecond) update rate.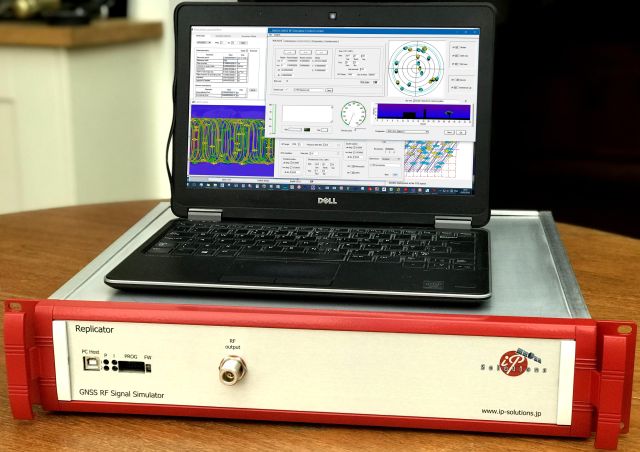 Ninja RF GNSS Simulator Complex
The Ninja complex has a Master unit, which is in charge for communication with host PC. The Master unit can be connected with up to eight RF units, each of which contains six RF cards. Each RF card allows to simulate multiple signals on a specific central frequency.
The Ninja's modular structure allows to build up the system with up to 48 RF cards and up to 8 RF outputs.
Six Pegasus RF cards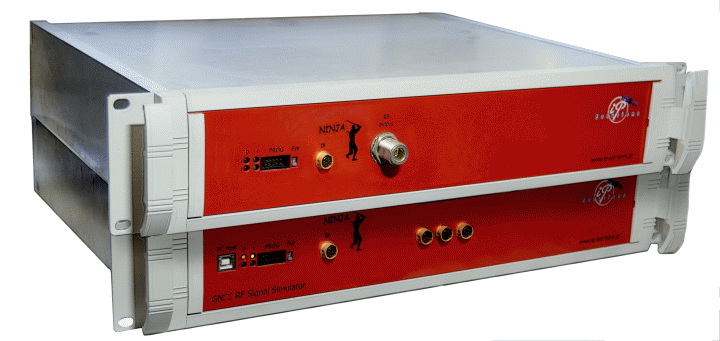 Download datasheet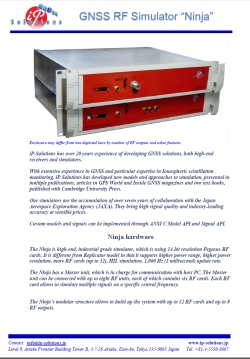 Ninja supports CRPA simulator with up to 8 RF outputs and more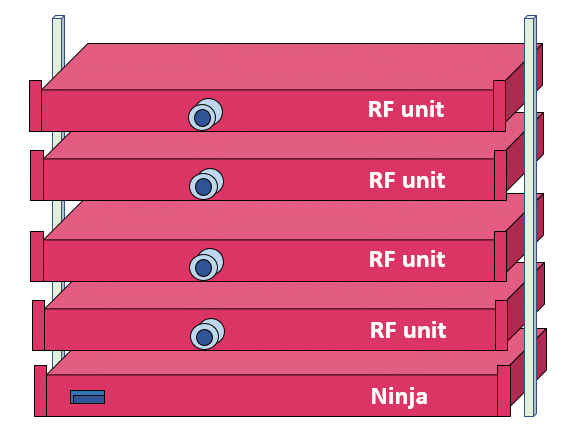 Six Pegasus RF cards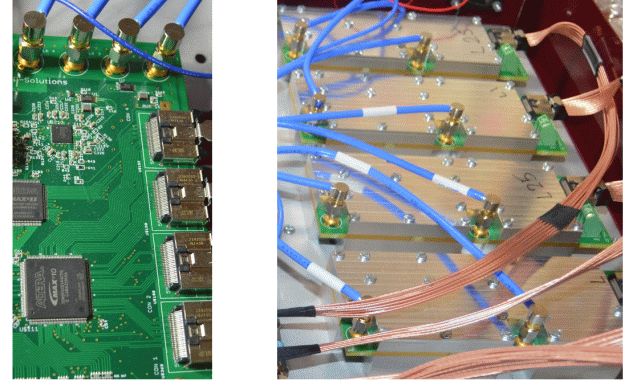 Available signal licenses for Ninja (subsets are available for Replicator and Simceiver):
| Pegasus rf card | signals (optional sets are indicated by || ) |
| --- | --- |
| Card P1 | GPS L1CA, GPS L1C, QZSS L1CA, QZSS L1C, BDU B1C, GAL E1, SBAS L1 |
| Card P2 | BDU B2I, GPS L2C, QZSS L2C, GAL E5B, GLO L3OC |
| Card P3 | GPS L5, BDU B2A, GAL E5A, NAVIC L5, SBAS L5 |
| Card P4 | BDU B3I || GLO L2OF, GLO L2OS || QZSS LEX |
| Card P5 | NAVIC S || GLO L1OF, GLO L1OS |
| Card P6 | BDU B1I |